About SVA
Through a network of nearly 1,600 on-campus chapters, SVA has been inspiring tomorrow's leaders since 2008 to ensure they achieve their greatest potential.
Who We Are
Student Veterans of America® (SVA) is the premier organization leading service, research, programs, and advocacy for veterans in higher education.  
Our Vision
Empowering student veterans to lead and live their best lives.
Our Mission
Act as a catalyst for student veteran success by providing resources, network support and advocacy to, through, and beyond higher education.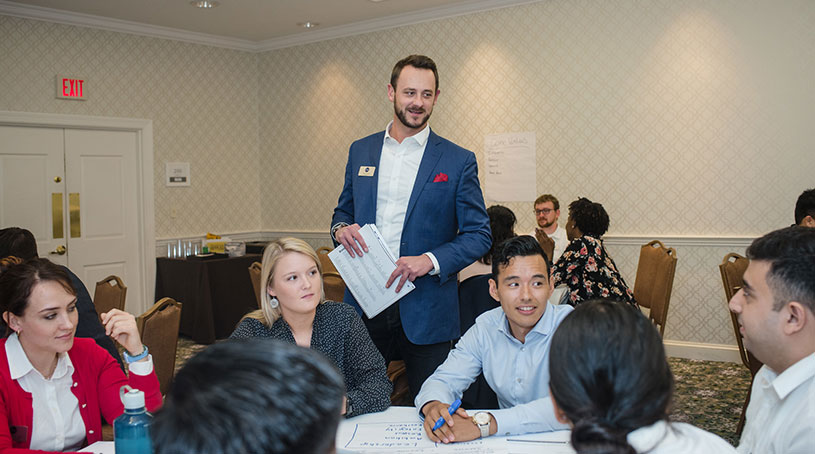 What We Do
Student Veterans of America® (SVA) elevates the academic, professional, and personal development of veterans in higher education through chapter programs and services, outcomes and impacts research, and advocacy at every level. With a mission focused on empowering student veterans, SVA is committed to providing an educational experience that goes beyond the classroom.
Through a dedicated network of nearly 1,600 on-campus chapters in all 50 states and three countries overseas representing more than 750,000 student veterans, SVA inspires yesterday's warriors by connecting student veterans with a community of dedicated chapter leaders. Every day these passionate leaders work to provide the necessary resources, network support, and advocacy to ensure student veterans can effectively connect, expand their skills, and ultimately achieve their greatest potential.
SVA's National Headquarters oversees the provision of programs and services that empower student veterans to succeed to, through, and beyond higher education by focusing on the chapter-centric life cycle of student veterans. In order to lower technical barriers to success, SVA's team of legislative and policy experts oversees advocacy efforts including preserving the integrity and evolution of the GI Bill. As a data-driven organization, SVA's research arm collects, analyzes, and interprets data from national partners as well as institutions and chapters, and then tells the story of our nation's most talented group of college students.  Read our 2020 Annual Report.
Core Functions
Programs: As a coordinating element for our chapters, we deliver chapter-centric tools and training nationwide.
Advocacy: As an organization actively engaged with policymakers in DC and on campuses across the country, we shape the national landscape for student veterans.
Research: Our peer-reviewed original research informs all of our programs and policy work, providing clear learning and measurement metrics.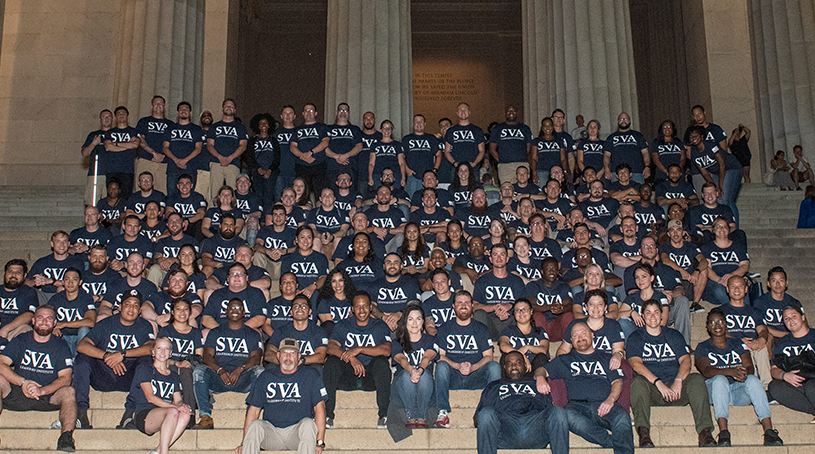 SVA Today
SVA has over a network of nearly 1,600 chapters with a footprint covering every U.S. State and territory and 3 countries abroad.
SVA programs prepare our chapter leaders to represent 754,000 individual student veterans on campuses with a registered SVA chapter.
SVA's National Conference, or "NatCon" as we like to call it, is the largest annual gathering of Post-9/11 veterans in the world.
SVA analyzed the first 1.8 million Post-9/11 GI Bill graduates and leverages this original research to inform programing and national policy.
SVA conceived, and unanimously passed in Congress, the first major update to the GI Bill in a decade, known commonly as the Forever GI Bill. This bipartisan legislation impacts the lives of approximately 1 million students, distributing more than $12 billion in benefits annually.
SVA History
Since SVA's founding in 2008, over one million veterans have returned home to pursue a degree using the GI Bill.
LEARN MORE