Regional Summit Dallas
Regional Summits provide the tools, techniques, and tactics needed for student veterans to manage a successful and sustainable student organization.
2023 Regional Summits are Presented by
August 3-5, 2023
DFW Airport Marriott
8440 Freeport Parkway, Irving, TX 75063
Parking Details
⇓ Download the Dallas Regional Summit Event Agenda
The definitive experience for planning and building a world class SVA Chapter.
This conference is recommended for all current chapter leaders, future chapter leaders, chapter members, and university faculty, staff, and administration involved in the chapter. The networking opportunities combined with the lessons delivered are sure to help our chapters become successful and sustainable for those who come after us.
Sign up today in MySVA for the 2023 Dallas Regional Summit conference at no cost*!
REGISTRATION DEADLINE JULY 15
Student Veterans of America would like to thank Boeing for their generous support in making Regional Summits possible!
Jared Lyon, President & CEO
Build a World Class SVA Chapter
Sign up today in MySVA for the 2023 Dallas Regional Summit conference at no cost*!
Register for FREE!
Supercharge Your SVA Chapter in Six Steps
Whether starting a brand new chapter or building on an established one, Student Veterans of America's Regional Summits offer a variety of sessions that guide chapter leaders to grow chapter success strategically and navigate the academic year with tools, techniques, and tactics ready for impact.
1. Define Your Chapter
Develop or strengthen your chapter's mission statement and goals to create a strategic plan.
2. Enhance Your Chapter
Establish objectives and strategies that will help you achieve each goal.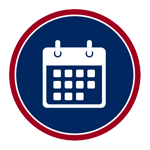 3. Engage Your Chapter
Plan the framework for on-campus recruiting, event programming, and fundraising using your strategic plan.
4. Elevate Your Chapter Leadership
Acquire tools and techniques through operational and competency workshops.
5. Connect & Empower Chapter Leaders
Connect, network, ask questions, and discuss issues in facilitated small groups.
6. Execute Summit Lessons
Implement your strategic plans with support from our partners and your growing network for a successful and sustainable chapter.
What is the difference between the Regional Summit and the Leadership Institute?
The Regional Summit was created to provide Chapter Leaders with the tools, techniques, and tactics to develop a successful and sustainable chapter. It is meant for established as well as new chapters. The Leadership Institute takes Chapter Leaders through a personal leadership experience, apart from their chapter.
*Student Veterans of America Regional Summit conference has no registration fee or cost to attend. All travel, lodging, and per diem expenses in connection with the conference shall be paid by the attendee.