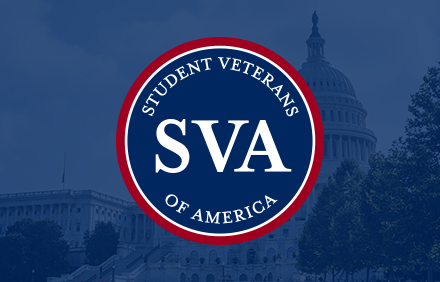 SVA Celebrates Major End-of-Year Policy Victories
WASHINGTON, D.C. (Jan 26, 2023) –Student Veterans of America secured key legislative wins for student veterans and military-connected students in the final days of the 117th Congress. Throughout the session, SVA laid the groundwork for several bills that passed the House of Representatives and were positioned for decisive votes in the Senate by year's end. The Senate passed these critical pieces of legislation in the last days of 2022. 
Veterans Auto and Education Improvement Act of 2022 (formerly the Student Veteran Emergency Relief Act of 2022) 
Passing this bill and making emergency protections for VA education benefits permanent was SVA's top priority in 2022. The bill accomplishes the following: 
Makes VA education benefit protections established during the pandemic permanent, including ongoing in-person MHA if courses temporarily move online, protection against the expiration of benefit entitlement, and continued work-study payments, among others.

 

Provides flexibility so student veterans can use their VA education benefits for additional study abroad programs.

 

Creates a uniform application for approving education programs for VA education benefits to address documented gaps exploited by bad-actor institutions.
VITAL Assessment Act of 2022 
The Consolidated Appropriations Act of 2023 incorporated language from the VITAL Assessment Act of 2022, which: 
Requires VA to report on the VA's Veterans Integration to Academic Leadership (VITAL) Program.

 

Compels VA to establish best practices for VITAL.

 

Requires VA to conduct outreach on the program.
Protections for Student Veterans Act 
This bill was incorporated in the Consolidated Appropriations Act of 2023 and established the following universal set of basic protections for veterans when activated while using VA education benefits: 
Allows for the right to withdraw with a full refund of tuition and fees or take a leave of absence.

 

Provides protection against academic and financial penalties when withdrawing.

 

Gives the option to complete their program where possible if they take a leave of absence.

 
About Student Veterans of America
With a focused mission on empowering student veterans, Student Veterans of America (SVA) is committed to providing an educational experience that goes beyond the classroom. Through a dedicated network of nearly 1,600 on-campus chapters in all 50 states and 4 countries representing more than 750,000 student veterans, SVA aims to inspire yesterday's warriors by connecting student veterans with a community of like-minded chapter leaders. Every day these passionate leaders work to provide the necessary resources, network support, and advocacy to ensure student veterans can effectively connect, expand their skills, and ultimately achieve their greatest potential. For more information, visit us at www.studentveterans.org.