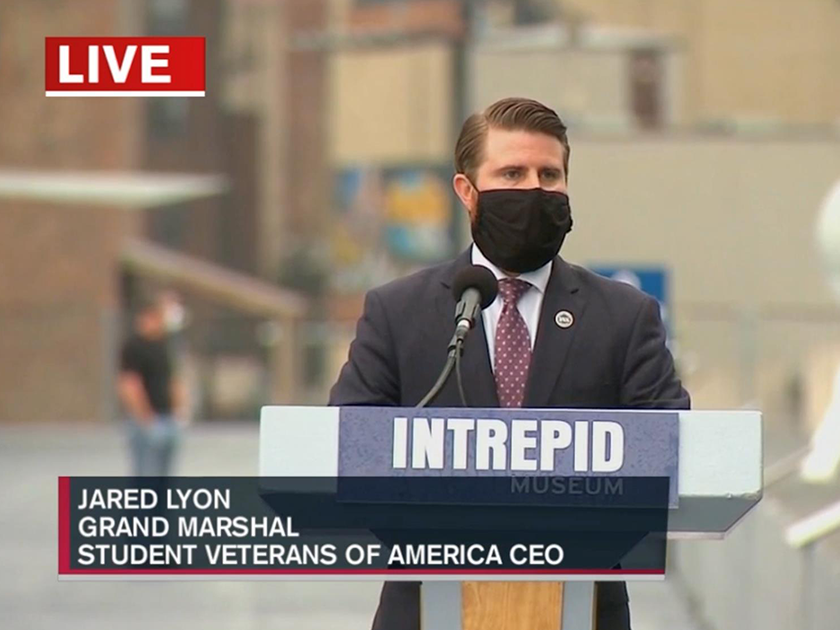 Jared Lyon Delivers Veterans Day Remarks
SVA National President and CEO Jared Lyon delivered Veterans Day remarks aboard the USS Intrepid on November 11 as part of the New York City Veterans Day Salute.
You can watch the full ceremony on ABC7 New York.
FULL SPEECH TEXT:
Good afternoon. On behalf of the United War Veterans Council, and more than 1,500 Student Veterans of America Chapters that we represent in all 50 states and abroad, as well as the more than 750,000 student veterans currently attending a university with an SVA Chapter, I'm honored to be with you here in the great City of New York aboard the USS Intrepid.
In the United States, Veterans Day falls on November 11th, the anniversary of the signing of the armistice which ended the World War I hostilities between the Allied nations and Germany. In New York City, this day has been properly commemorated, without fail, every year since 1919, and we would not let this year be different.
No matter what differences there may be between us, we all take pause today united in our cause to honor those who have so bravely defended our freedoms.
For those of us who have lost someone in service to this great nation, I would like to take a moment to acknowledge your loss.
For those who have served wearing the cloth of our nation, they were drawn from the full tapestry of American life. They were generals and privates, captains and corporals, petty officers and commanders, of every race, color, and creed. But we were all sisters and brothers in arms, united by our undying love of country.
What we do with this great gift of the service that veterans have given is today an opportunity to renew our conviction to live worthy lives, to pursue our aspirations, and to continue to serve others—we will do so in their honor and we will never forget. Thank you and happy Veterans Day.
Photo Gallery