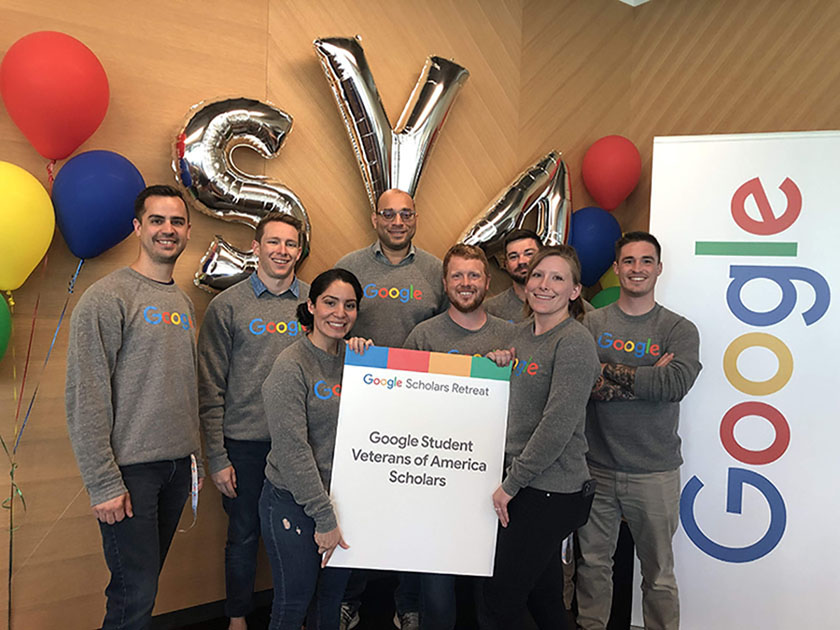 SVA Announces 2021 Google Scholarship Recipients
As part of their shared commitment to military service members and veterans, Google and Student Veterans of America (SVA) have partnered to award eight veterans with $10,000 scholarships. The scholarship is intended to help those pursuing degrees in Computer Science during the 2021-2022 academic year.
Military service members and veterans have a high propensity for success in higher education. The recipients of this scholarship have been accomplishing their personal and professional goals while also excelling academically.
The recipients of the 2021-2022 the Google Student Veterans of America Scholarship are:
Amani Muller, Florida Agricultural & Mechanical University
Elba Garza, Texas A&M University
Keinen Bousquet, Dakota State University
Marc Kennis, Rutgers University
Patrick Hellman, Georgia Institute of Technology
Ronny Fray Regato, Florida Gulf Coast University
Taylor Litke, Western Oregon University
Temitayo Akinjogunla, Southern University and A&M College
Amani Muller, Navy veteran and Florida Agricultural & Mechanical University student, is a computer science major and lead tutor for his degree program. His passion for Computer science stems from his never-ending thirst for learning and he intends to use his scholarship funds to stay up to date with new technologies.
"This is very vital to me growing in my career because software development is a constantly growing field, so you always have to be on the cutting edge of technology to keep yourself relevant," said Muller.
Marc Kennis, Army veteran and Rutgers University student, is interested in emerging technologies as a result of his exposure to technology while serving in the 3rd Ranger Battalion 75th Ranger Regiment. He intends to use the scholarship funds to assist his pivot to graduate school.
"This scholarship will allow me to get a new laptop that isn't extremely outdated, like my current one, to better run the various systems I need for school," said Kennis. "I am beyond grateful for this scholarship and also plan to use it to get all the necessary security certifications to better make me a well-rounded applicant in my future career path."