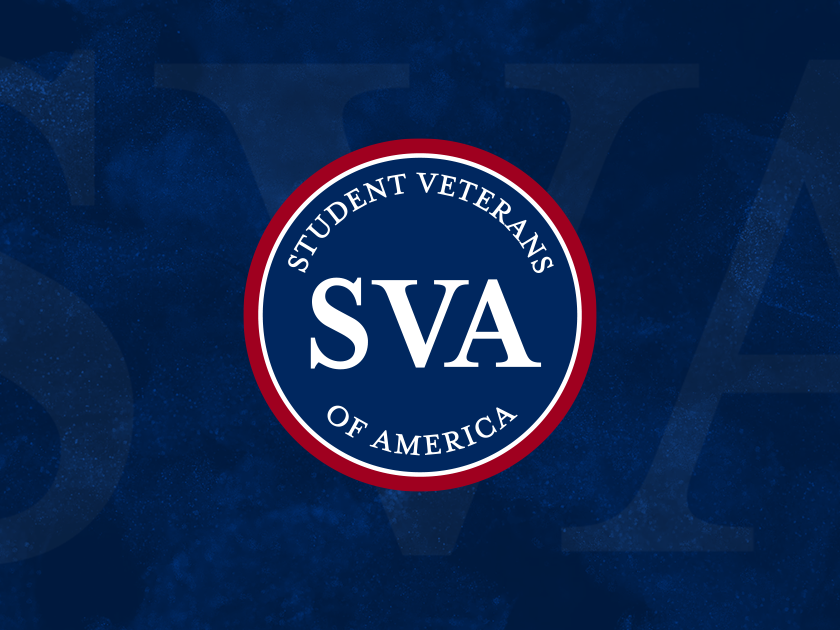 Student Veterans of America Receives $8 Million Grant from MacKenzie Scott
Donation will transform national educational programs that empower student veterans
WASHINGTON, D.C. (March 24, 2022) — Student Veterans of America® (SVA) was thrilled to receive news this week of an $8 million grant from author and philanthropist MacKenzie Scott. Her donation is the largest individual contribution in the organization's fourteen-year history, and it will elevate the nation's premiere nonprofit serving veterans in higher education to an even higher level of impact.
Scott's one-time grant enables the continued expansion of SVA's national educational programs that deliver tools and training both in-person and virtually to empower student veterans in more than 1,500 SVA chapters to achieve their greatest potential after military service. These include the annual National Conference (NatCon), Washington Week, Regional Summits, the Leadership Institute, and others. Additionally, this generous support allows for infrastructure investment that will help student veterans network more efficiently with SVA alumni, mentors, and potential employers.
SVA elevates the academic, professional, and personal development of student veterans through chapter programs and services, research, and advocacy while fostering an inclusive community that promotes positive social change.
"This grant not only enables us to scale these areas of impact today but also moves us further toward our mission to provide all student veterans, military-connected students, and their families with the support they need every year," SVA's National President and CEO Jared Lyon said. "We are incredibly grateful for Mackenzie Scott's investment in our mission."
SVA's research shows student veterans are among the most academically successful students in higher education, who can leverage SVA's chapter and national network when they face economic challenges, a lack of peer and social support, difficulties providing childcare, trouble navigating disability services and healthcare, hesitation to engage with mental health resources, and a lack of access to career resources while in school and after graduation. SVA also provides focused support for those who have been historically excluded through outreach to Minority Serving Institutions (MSIs), specifically Historically Black Colleges and Universities (HBCUs).
"When I received news of this unprecedented gift, my eyes welled up with tears," Lyon said. "I cannot express how monumental this is for our organization, but in short, MacKenzie Scott has funded the next greatest generation of veteran leaders who will help solve the complex challenges ahead of us."
When student veterans engage with the educational and peer supports provided by SVA, they are more likely to graduate with higher GPAs and have successful careers after their transition from military service. The presence of these students strengthens the cultural diversity and awareness of the adult learner within all sectors of higher education. Veterans are a critical source of enrollments at a time when colleges and universities are facing seismic demographic shifts.
Compared to traditional students, student veterans are likely to be older, married, have children, have a disability, and be working full- or part-time. Many of these challenges were exacerbated by the COVID-19 pandemic, a reminder that the work needed to ensure every student veteran can lead and live their best life is not over.
SVA convenes a diverse network of corporations, foundations, nonprofits, chapter leaders, alumni, and volunteers that collaborate to empower student veterans, military-connected students, their families, and allies to, through, and beyond higher education. Information about how you can get involved with SVA is available at studentveterans.org.
About Student Veterans of America
With a focused mission on empowering student veterans, Student Veterans of America (SVA) is committed to providing an educational experience that goes beyond the classroom. Through a dedicated network of nearly 1,600 on-campus chapters in all 50 states and 4 countries representing more than 750,000 student veterans, SVA aims to inspire yesterday's warriors by connecting student veterans with a community of like-minded chapter leaders. Every day these passionate leaders work to provide the necessary resources, network support, and advocacy to ensure student veterans can effectively connect, expand their skills, and ultimately achieve their greatest potential. For more information, visit us at www.studentveterans.org.