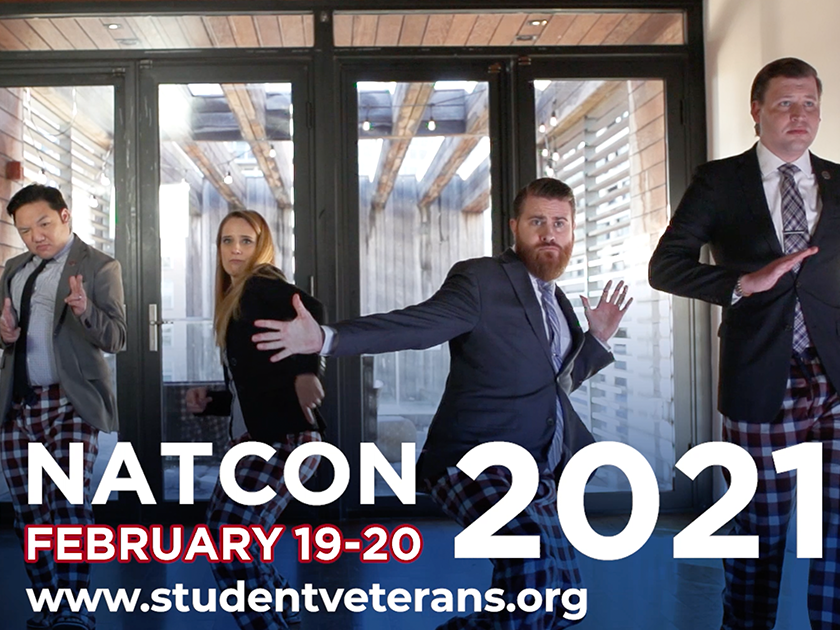 Student Veterans of America NatCon Returns: February 19-20
WASHINGTON, D.C. (November 12, 2020) – Join the largest annual convening of Post-9/11 veterans in the world. NatCon returns on February 19-20.
A PARADIGM SHIFT IN PRESENTATION
After listening to the concerns of Chapter Leaders across the country, SVA recognized the need to create the most inclusive and accessible National Conference (NatCon) ever. We've re-imagined the entire experience virtually to remove any barriers so you can focus on your Chapter's most important leadership asset: You!
NatCon 2021 is powered by the latest event technology to deliver all of the benefits of an in-person NatCon to you at home. Join thousands of students from across the country, inspiring speakers, leading employers, and thought leaders to exchange ideas and best practices on topics that matter: thriving in a virtual world, growing and sustaining your SVA Chapter, funding and fundraising, addressing racial injustice, and more. Register now.
DON'T MISS
Main Stage Speakers & Entertainers
The SVA Honors Gala
40+ Breakout Sessions
The SVA Campus
Live Q+As
Fitness Activities
1-on-1 Networking
Social Hours
ONE MORE THING
SVA and our partners stand by you as you advance your education, build your network, form meaningful relationships, and push forward in a challenging year. That's why the $99 registration fee is waived for the next 300 students who register for NatCon 2021 thanks to the generous support of Microsoft.
Take advantage of this offer by registering as soon as possible!
About Student Veterans of America
With a focused mission on empowering student veterans, Student Veterans of America (SVA) is committed to providing an educational experience that goes beyond the classroom. Through a dedicated network of nearly 1,600 on-campus chapters in all 50 states and 4 countries representing more than 750,000 student veterans, SVA aims to inspire yesterday's warriors by connecting student veterans with a community of like-minded chapter leaders. Every day these passionate leaders work to provide the necessary resources, network support, and advocacy to ensure student veterans can effectively connect, expand their skills, and ultimately achieve their greatest potential. For more information, visit us at www.studentveterans.org.