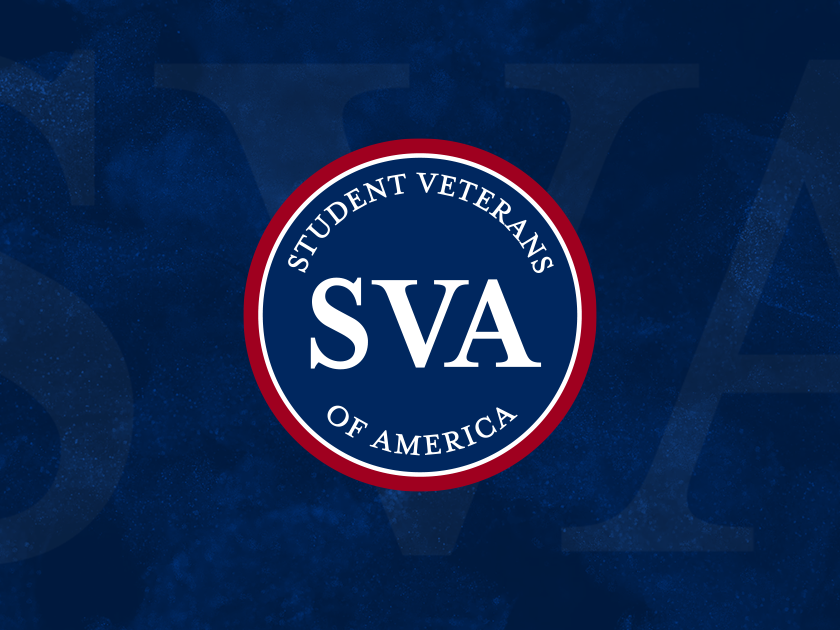 Student Veterans of America Names Three Board Members, Including Current Student and Recent Graduate
SVA welcomes Joe Sautter, Katherine Martinez, and Nick Mararac to Board of Directors.
WASHINGTON, D.C. (March 7, 2022) — A current student veteran, a recent graduate, and a Disney executive are joining the board of directors of Student Veterans of America, the nation's largest organization for veterans in higher education.
Katherine Martinez was recently named the 2021 Student Veteran of the Year at SVA's National Conference last month in Orlando. She graduated from Old Dominion University with a bachelor's degree in sociology and criminal justice while serving as president of the SVA Chapter and intends to begin graduate school in the fall.
Nick Mararac is a PhD candidate in the Department of Linguistics at Georgetown University, where he is the president of the SVA Chapter. His research centers on the intersection of language, gender, and sexuality in the military, examining how veterans construct narratives about decision-making and transition.
Joe Sautter is the general manager of sports logistics & event management at ESPN Wide World of Sports and runDisney where he and his team contributed to the Disney-wide effort to safely host Major League Soccer (MLS), National Basketball Association (NBA), and other sporting events at the Walt Disney World Resort during the COVID-19 pandemic.
From left to right: Katherine Martinez, Nick Mararac, and Joe Sautter
Selecting the Student Veteran of the Year and the Chapter of the Year president as directors acknowledges SVA's recognition of the board's inclusion of student voices.
Martinez, a first-generation college graduate and U.S. citizen, championed strategies that increased diversity, equity, inclusion, and cultural awareness for student veterans at Old Dominion University. She raises awareness about mental health issues through her service as a Character Does Matter mentor and Operation Legacy project coordinator with the Travis Manion Foundation, and she served for three years as the chairperson for the Virginia Beach American Foundation for Suicide Prevention. A U.S Navy veteran, Martinez served four years of active duty service as a Sonar Technician, STG2, stationed onboard the USS Winston S. Churchill (DDG-81) and the Mid-Atlantic Regional Maintenance Center (MARMC). She is a member of the Kappa Delta Sorority.
"I have been able to thrive in my post-service endeavors because of the opportunities, experiences, and tools SVA has to offer," Martinez said. "Being able to give back by contributing my passion, suggestions, and support to SVA as a member of the Board is a dream come true and I am honored to be able to represent my fellow student veterans in this capacity."
Mararac's SVA Chapter at Georgetown has been helping Afghan refugees, coordinating service projects, and gaining recognition from Department of Veterans Affairs Secretary Denis McDonough. To increase their impact, the chapter coordinated with community partners such as Husayn for Humanity, Afghan Youth Relief Foundation, VFW Posts 9274 and 3150, and National Capital Battalion Naval ROTC. Under Mararac's leadership, the chapter has also amplified visibility for queer veterans on campus and launched Women Vets @ GU, an interest group which celebrates women veterans in higher education. Prior to starting his Ph.D., Mararac served as a Surface Warfare Officer (SWO) in the US Navy for nearly eight years and received his commission from the US Naval Academy.
"Being a queer person of color who served in the U.S. Navy during Don't Ask, Don't Tell, I never imagined I would be continuing to work in this space," Mararac said. "I hope that through this position I can provide insight on how to serve those of us who have been historically discriminated against and excluded due to our genders and sexualities."
Sautter joined the Walt Disney Company in 1997 as the director of convention services and catering operations where he led teams at Disney's Contemporary, Coronado Springs, and Boardwalk resorts for 14 years. His experience in event management and logistics will contribute to SVA's delivery of national programs and services. Prior to that, he spent four years serving in the U.S. Coast Guard as an aviation electronics technician and navigator before becoming a student veteran at Auburn University.
"As a veteran who entered higher education then began my career path as a civilian, this is truly a full circle experience for me," Sautter said. "I'm honored to contribute to this outstanding organization to provide resources, support, and advocacy for those who are now taking that journey."
SVA presented Disney with the Corporate Partner of the Year Award at its National Conference in January. Disney's Heroes Work Here initiative has hired more than 11,000 veterans since 2012, and its Veterans Institute has helped other companies establish veteran-hiring programs. SVA will hold its 2023 national conference at Disney's Coronado Springs Resort in Orlando, Fla., next January 5-7.
The additional three members bring the number of directors to 12.
About Student Veterans of America
With a focused mission on empowering student veterans, Student Veterans of America (SVA) is committed to providing an educational experience that goes beyond the classroom. Through a dedicated network of nearly 1,600 on-campus chapters in all 50 states and 4 countries representing more than 750,000 student veterans, SVA aims to inspire yesterday's warriors by connecting student veterans with a community of like-minded chapter leaders. Every day these passionate leaders work to provide the necessary resources, network support, and advocacy to ensure student veterans can effectively connect, expand their skills, and ultimately achieve their greatest potential. For more information, visit us at www.studentveterans.org.