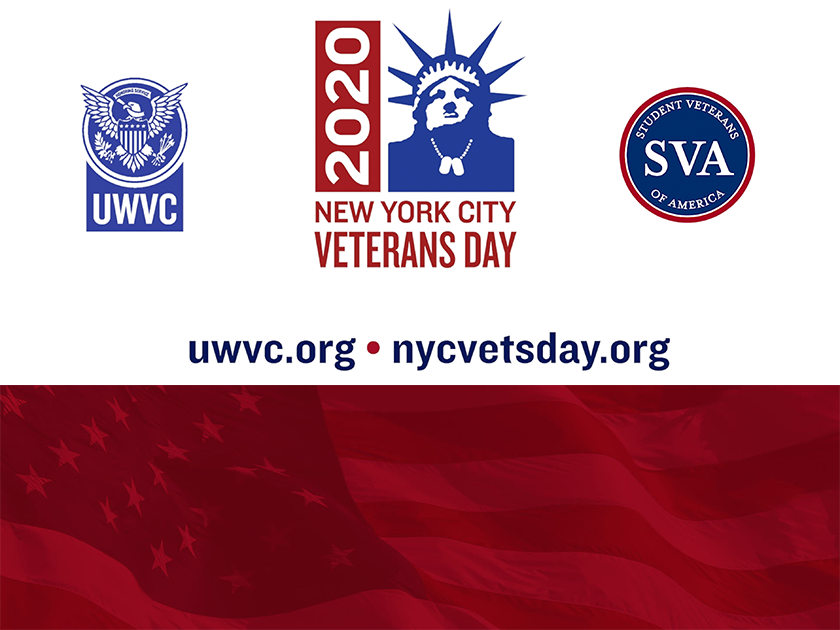 Jared Lyon Named 2020 NYC Veterans Day Grand Marshal
SVA National President and CEO Jared Lyon has been named Grand Marshal of the 2020 New York City Veterans Day Commemoration, United War Veterans Council (UWVC) Chairman Nick Angione announced today.
UWVC produces the New York City Veterans Day Parade, which first marched in 1919 and is historically the largest commemoration of service in America. This year's commemoration will be largely a virtual event, with a symbolic presence on New York City's Fifth Avenue to maintain the tradition of veterans marching since 1919.
In the days leading up to Veterans Day and on November 11, there will be programming, including events and interviews and profiles, on nycvetsday.org.  WABC-TV 7, the most-watched TV station in America, will broadcast a special Veterans Day show November 11 from 12:30 to 2 p.m. from their studios and from the Intrepid Sea, Air & Space Museum.
Marching Orders
Although we will not be able to gather on Fifth Avenue this year, UWVC is providing MARCHING ORDERS: eleven activities veterans and/or their supporters can do on-screen or at-home, either by themselves or with a (socially distanced) group!
Many of these activities can be done as we build up to Veterans Day; others take place on November 11 itself. Learn more about hosting a Veterans Day event on your campus.
Read a book, listen to a podcast, attend an online lecture, or explore an web-based exhibition about our veterans or military
Take part in a fitness/exercise activity honoring veterans.
Make a contribution to an organization that supports or assists veterans.
Support a veteran-owned business. If you are a non-veteran business owner, offer special deals for veterans.
Pay your respects at a local memorial or monument, or visit the gravesite of a veteran. If you see litter or debris, clean up the area. If you visit with a group or organization, please follow social distancing and safety guidelines.
Learn the story of a veteran in your family, or in your community. If you are a veteran, share your story.
Watch a military or veteran-themed movie or TV series. Discuss it with your friends and family.
Make a sign, card or other artwork thanking our veterans. Share your work on social media!
On Veterans Day, wear a flag or something patriotic (need some ideas? Visit our store!)
On Veterans Day, watch our broadcast on WABC and follow the Virtual Parade on Facebook or Twitter!
Spread the word about our Veterans Day events!
So join the commemoration—and don't forget to share photos and stories of your activities on social media, using the hashtags: #nycvetsday and #marchingorders.